In the wake of the Ferguson, Missouri riots, President Obama has requested
$263 million
from Congress to improve police training and pay for body cameras.
The cameras can provide evidence in situations like the Michael Brown shooting. This check on police power is also hoped to increase trust between civilians, specifically minorities, and police. The money would fund 50,000 body cameras.
Obama's request comes on the heels of nationwide protests in the aftermath of the decision not to charge Officer Darren Wilson for Brown's death. Wilson has since resigned, saying he had feared for his life.
Part of the President's plan is to addressed the "militarized culture" in domestic police forces. He specifically calls for a more appropriate use of military equipment by police and a task force to build a "sustained conversation" across the US. This task force will be chaired by Charles Ramsey, Philadelphia's police commissioner.
In a similar move, Missouri's governor, Jay Nixon, has convened a commission to make recommendations on issues resulting from the Ferguson shooting. This commission will look at issues relating to public interaction with law enforcement and community stability.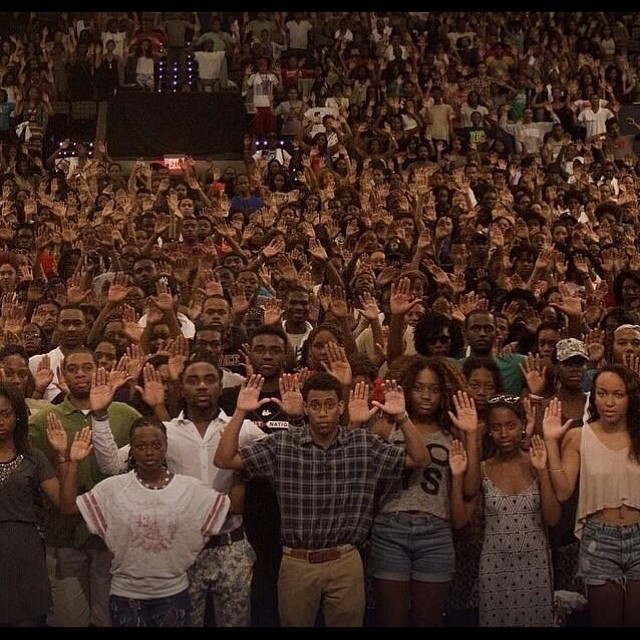 In the midst of these actions, protests have continued. Activists called for students to walk out of school and employees to walk off the job today, sparking protests nationwide. Today, US Attorney General Eric Holder was interrupted while speaking in Atlanta.
Holder plans to announce "
rigorous new standards
" for federal law enforcement to prevent racial profiling. He is launching a series of conversations to discuss the issues brought to light by the Ferguson shooting.
Holder also revealed that he has opened two civil rights investigations in Missouri. The first is into whether Wilson violated Brown's civil rights. The second is into the track record of the police department with minorities.
The Ferguson incident has garnered attention in unlikely areas. When the St. Louis Rams played Sunday against the Oakland Raiders, several players repeated the "hands up, don't shoot" gesture used by many protesters in Ferguson. This refers to eyewitness accounts that say Michael Brown was surrendering at the time he was shot, with his hands in the air. The
St. Louis Police Association said
of the move: "The gesture has become synonymous with assertions that Michael Brown was innocent of any wrongdoing and attempting to surrender peacefully when Wilson, according to some now-discredited witnesses, gunned him down in cold blood." The controversy lies in disputing accounts and a lack of evidence to prove Wilson of wrongful action.
Despite the many issues highlighted by Ferguson, stories of unity have come through, and the potential for an improved situation can be seen in the momentum these protests have gained and actions, like the introduction of body cameras, by prominent members of communities nationwide.
In the wise words of
Chris Rock
, "White people were crazy - now they're not as crazy."