A hostage standoff in Sydney, Australia this past week has left the Western world reeling.
On Monday morning, Iranian-born Man Haron Monis
stormed
a Lindt chocolate café, taking 17 people inside hostage and forcing them to raise an Arabic-script Islamist flag in the window. Media captured images of terrified hostages standing in the café windows with their hands pressed against the glass. The crisis lasted for more than 16 hours, during which 2 hostages were shot and several more were injured. The standoff ended around 2:30 in the morning, when police used stun grenades and finally shot the gunman.
The incident put Sydney's business district in gridlock for hours. Traffic stalled. The Sydney opera house cancelled its performances for the next two days. Snipers, security forces, cameramen and reporters clogged the area surrounding the cafe.
Throughout the day, several hostages were able to escape. Others were not so lucky.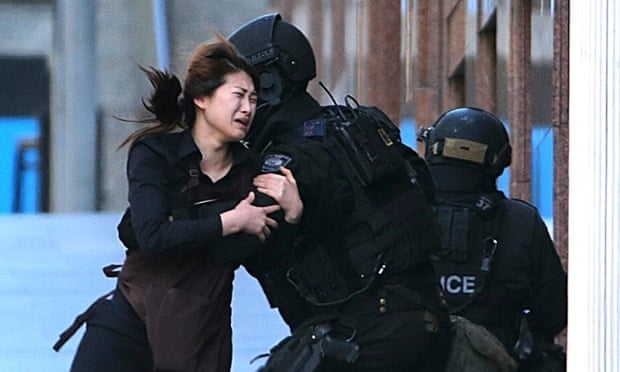 US and Australian authorities have concluded that Monis was not affiliated with ISIS. However, the incident illustrates the still great power of even lone radicalized militants. It also highlights holes in Australia's national security: the gunman, despite a history of mental and behavioral instability and demonstrated radicalization, was not on
Australia's national terror watchlist. He had been out on bail for multiple sexual assault charges and conviction in the murder of his ex-wife.
The two killed are being
hailed as heroes
. Café manager Tori Johnson tried to wrestle a gun away from Monis as he dozed off. He paid with his life. Lawyer Katrina Dawson also lost her life as she attempted to shield a pregnant friend from gunfire. As Australia mourns, it celebrates the lives and heroic deeds of these exemplary citizens.

Too often we focus on the perpetrators of horrific crimes, not emphasizing enough the heroic deeds of their victims. For this reason Monis's image does not appear in this post.
For us in the US, the greatest thing we can do is stand together with our friends in Australia, and remember the examples set by these common heroes.